Hydra dermabrasion with water tips
Water dermabrasion completely changed the traditional way, which is hand cleaning skin relying on individual'
practice skills. microdermabrasion uses vacuum suction mode controlled by intelligent process, through the combination
of products and equipment to impove skin texture.The main advantage of the dermabrasion machines lies in than it is
much gentle by using only water,and enables treatment diversification by using with skin care products for different
functions like essential oil, whitening products, lactic acid, salicylic acid and more, to achieve various
aims on customers" request.
What is Hydra dermabrasion and why the fuss about it?
Hydra dermabrasion is the latest innovation in advanced skincare technology, effortlessly and painlessly exfoliating the
skin without the use of hard crystals or abrasive wands while simultaneously infusing medicinal products dermally.
Hydra dermabrasion utilizes a high velocity of water along with oxygen, striking it against the skin to provide a deep
exfoliation and skin rejuvenation resulting in the gentle removal of dead skin cells. Hydra dermabrasion uses vortex
technology to not only cleanse and exfoliate but to also extract, hydrate and treat the skin's specific requirements
at the same time. Leaving the skin looking brighter, smoother, rejuvenated, and healthier.
Feeling softer immediately after the procedure.

How does Hydra-dermabrasion work?
Using a powerful wand with a silicon tip, vacuum suction is delivered to the skin carrying water, specific serums,
alpha & beta hydroxyl acids to loosen dead skin cells, sebum and impurities, lifting them away gently while
hydrating the skin simultaneously.

1. The abrasive silicon tip then exfoliates and gently extracts impurities including blackheads and whiteheads,
vacuuming them away.

2. The clean and exfoliated skin is very receptive and absorbs maximally any treatments applied thereafter.
Specific anti-oxidants, anti-aging, anti-blemish, anti-acne and many other specific treatments are then
applied after the procedure for better penetration and results.

This is not a simple facial, it is a professionally-administered, invigorating, advanced and medical-grade
skin treatment that can change your skin forever!
How does Hydra-dermabrasion work?
Using a powerful wand with a silicon tip, vacuum suction is delivered to the skin carrying water, specific serums,
alpha & beta hydroxyl acids to loosen dead skin cells, sebum and impurities, lifting them away gently while
hydrating the skin simultaneously.

When can Hydra dermabrasion be used and what are it's benefits?
Can be used in all skin types: Dry skin, oily skin, aging skin, sensitive skin
Can be used on all skin tones
Superior and faster results than regular facials
Immediate, visible results with no irritation
Deep facial cleansing and exfoliation
Deep, long lasting skin hydration
Deep infusion of specific treatments: anti-acne, anti-aging, hyperpigmentation, other special treatments
Painless & effortless extractions
Skin rejuvenation & resurfacing with smoothening of fine lines
Brighter looking skin
Increased production of collagen
Vacuum pressure is 1 bar , two hose one for solutions lead in and other
for dirty water outside to water bottle !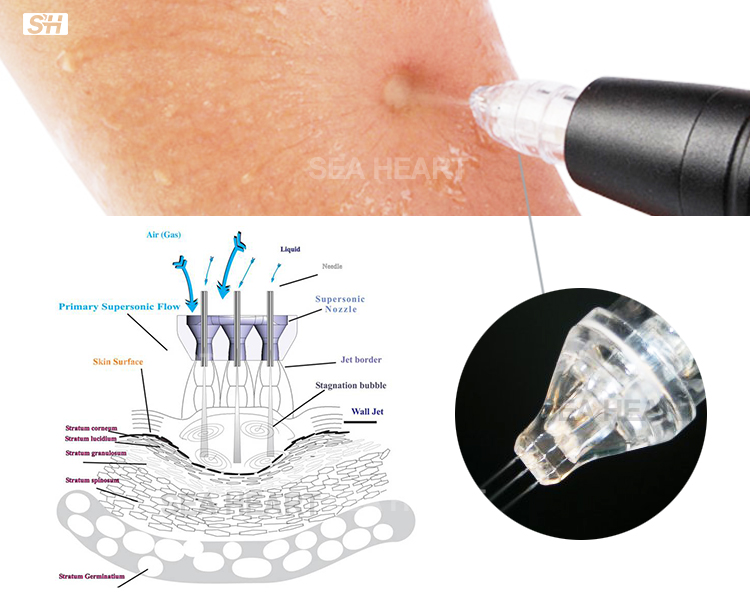 High Pressure Oxygen Jet Peel
It is a simple and effective superficial that helps rejuvenate the skin skin. It makes use of pressurized Oxygen to
accelerate a liquid agent (saline) to supersonic velocities, creating an exfoliative effect on the skin. The liquid
agent (saline) is compounded with different vitamins and supplements that will address the problem of the patients.
The high velocity, at the speed of 200m/s, the superficial layers of the skin,allowing better penetration of the
compounded substances, and prevents skin inflammation and infection by saline solution which is spraying out.
The anaerobic bacteria in the sebaceous glands can not exist when oxygen sprays into the skin. At the mean time
this system supply sufficient nutrition to the skin, accelerate the cell regrowth, subsequent reepithelialization takes
place resulting in younger, healthier skin.

What skin conditions can Jet Peel be used for ?
Jet Peel 3V treatments are highly effective in skin texture improvement, wrinkle reduction, removal of unwanted
pigmentation and overall skin rejuvenation.
It is also very useful with acne, blackheads and other comedone eruptions as it quickly and effortlessly removes
them without any pain or discomfort.

What will it feel like ?
Using a unique hand-piece, your Therapie skin technician will 'scan' your skin and gently 'pressure wash' it. Your skin
will be hydrated and nourished; the Jet Peel treatment feels cool and soothing. The gentle cleansing unclogs pores
and removes debris that naturally build-up in your skin.

The Jet Peel treatment also massages your skin and promotes circulation which is why your skin will look vibrant,
smooth and younger.

How many Jet Peel treatments are needed ?
Jet Peel treatments are usually administered in a series of sessions, and you can then schedule a maintenance session
every few months to be help keep your skin's lustre and clarity. There is no downtime; your skin may pink during
treatment but should return to normal coloration within 15–30 minutes.

Where can Jet Peel treatments be used ?
Jet Peel treatments are mostly commonly performed on face, neck and forehead. However, they can be easily
administered to any body area requiring deep cleansing, smoothing and hydration. Acne treatments are
often done for healing enhancement and deep cleansing.

What are the uses for the Jet Peel treatment ?
Although most often used as a 'stand-alone' device to correct a multitude of skin problems, Jet Peel treatments can be
combined with IPL (intense pulsed light) and other procedures, depending on your individual skin condition.
Every patient will be assessed to determine the most appropriate regime for their particular needs. Jet Peel's exclusive
supersonic 'infusion-style' technology delivers essential elements, water and oxygen, deep within the
skin—fundamental basics of all cellular growth and repair.

It is 8 bar jet handle , it can directly reach to the deep skin , deep cleaning our face
and lead in nutritions deep inside our skin .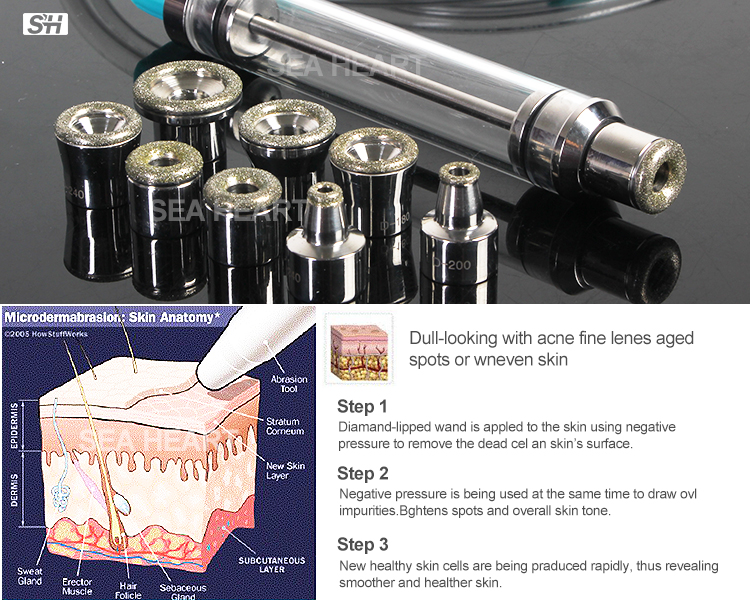 Water Diamond Dermabrasion 1pc wand with 9pcs tips
It ( water assisted dermabrasion ) is like traditional micro dermabrasion treatments. it utilises an abrasive tip to pull away
accumulated dead cells simultaneously propelling pure oxygen and saline, to deeply flush and purify each and every
pore. water Dermabrasion is a excellent treatment for skins that are effected by seasonal changes dryness in winter,
lumps and bumps during the warmer months.
Diamond microdermabrasin is used for deep cleaning and dead head removal .

Oxygen Jet
Use the oxygen, together with the active concentrated essence, to do the pure oxygen massage on the skin in order to
treat all kinds of prurituses, sensitive skin, neurotic dermatits, contact dermatitis, eczema, whelk, the sunlight symptom, etc.
Oxygen injection treatment: inject the pure oxygen and the special prescribed beauty product into the bottom of the
epidermis via the no needle pressure oxygen injection. Which is to strengthen the cells, increase its resistibility, dispel the
waste easily and promote its metabolism. So that it can treat and improve the problems that caused by the oxygen shortage,
such as dark and light skin, wrinkles, looseness, pigmentation and the conventional skin problems.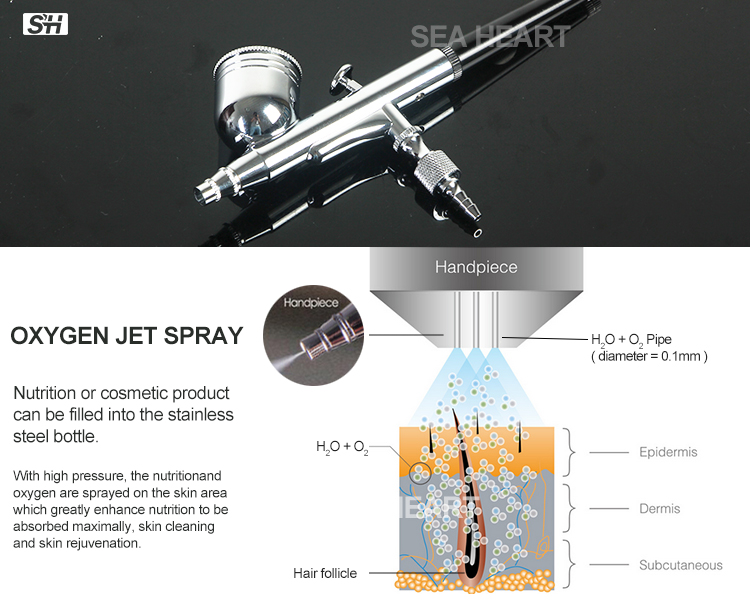 Spray Water Oxygen
Using the world's advanced PSA ( pressure swing adsorption principle ), at room temperature, power, instantaneous
separation from the air can be continuously high concentrations and clean sterile medical oxygen, while achieving
oxygen, Oxygen and oxygen atomizing spray three functions into one, comprehensive and thorough solution the
body, the skin hypoxia problem. The activity of 98% of oxygen and nutrients essential to promote through pulse-type
deep into the skin, effectively Accelerated into cellular metabolism. Instant recovery healthy skin, moisturize and shine.


Skin Ultrasonic Scrubber
It can promote the blood circulation of the corium to accelerate the speed of venous return metabolite and lymphatic
return , exhaust toxin which accumulated in the deep layer of the skin, eliminate aged cell and avoid excessively
keratin cell accumulated thus make rapid delivery of the moist and nutrition , enhance permeability of the cells ,
strengthen absorption of the product and improve moisture of skin. Meanwhile, the nutrition carried by artery can
provide nutrition to corium sufficiently and fully improve the color and texture of the skin, eliminate dark and
gloomy and skin whitening.
Skin scrubber should be used at the beginning of the treatment for dead skin removal and initial cleaning of our skin .
Main function as below:
- deep clear and clean up aged horniness .
- reduce melanin to get a whiten skin .
- deep fine wrinkle and make skin young and soft .
- improve blood circulation and lymph metabolism .
- make skin immediate glow and regrow .
- accelerate the absorption of nutrition .
- no side effect for any type of skin.
Microcurrent Wand Two Pieces :
Microcurrent is a low level of electricity that mirrors the body's own natural electrical impulses. A microcurrent face lift
is a non-surgical, non-invasive cosmetic technique that safely and effectively improves the health and appearance of
the skin. It is also referred to as a BIO-ultimate face lift. When used in conjunction with specialized products a manual
manipulations, these tiny microcurrent impulses encourage your body's currents at a cellular level. The signs of aging
are greatly reduced, while skin tone and elasticity are dramatically improved. These relaxing applications may be
enjoyed as a one time, comprehensive, or in a series of applications to reach your optimal goals, as well as enjoy
enhanced longevity of results. This procedure is proven safe and effective, delivering noticeable results.
Pls adjust the strength of it if you can't feel anything, and put gel on the area you do treatment!